As part of our love and enjoyment for being creative here are some other projects that we have been involved with.
Volunteering
During the COVID-19 pandemic we have been using our skills to help make scrubs, drawstring laundry bags and fabric face coverings for key workers and carers. We have used our own supplies of fabrics as well as many generous fabric donations from family, friends and neighbours. Finished items are distributed locally through sewing hubs and directly to community health centres.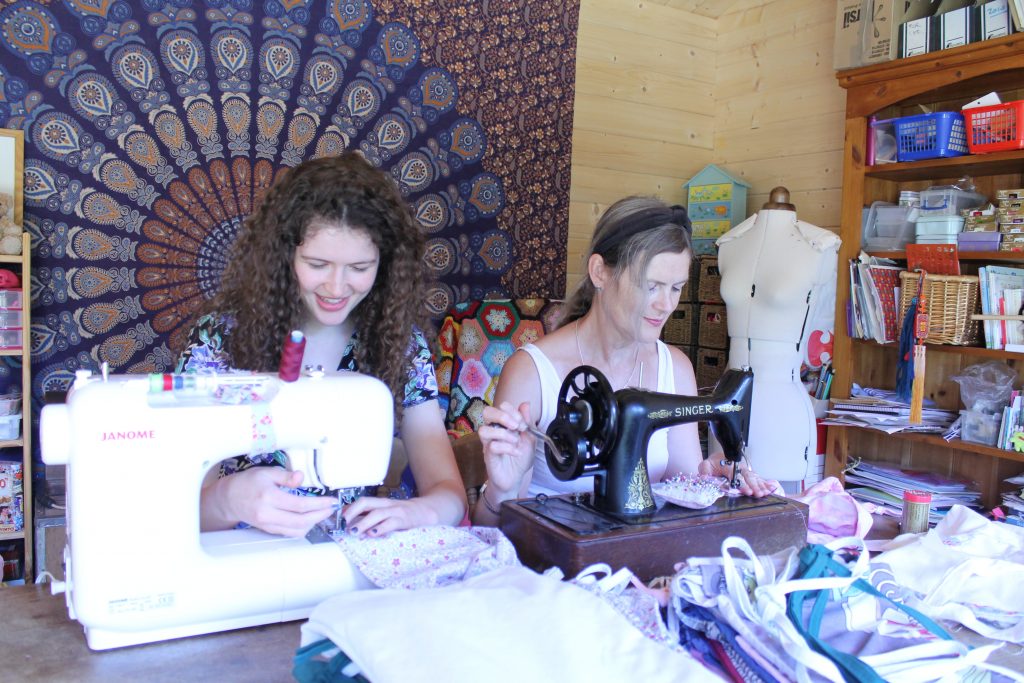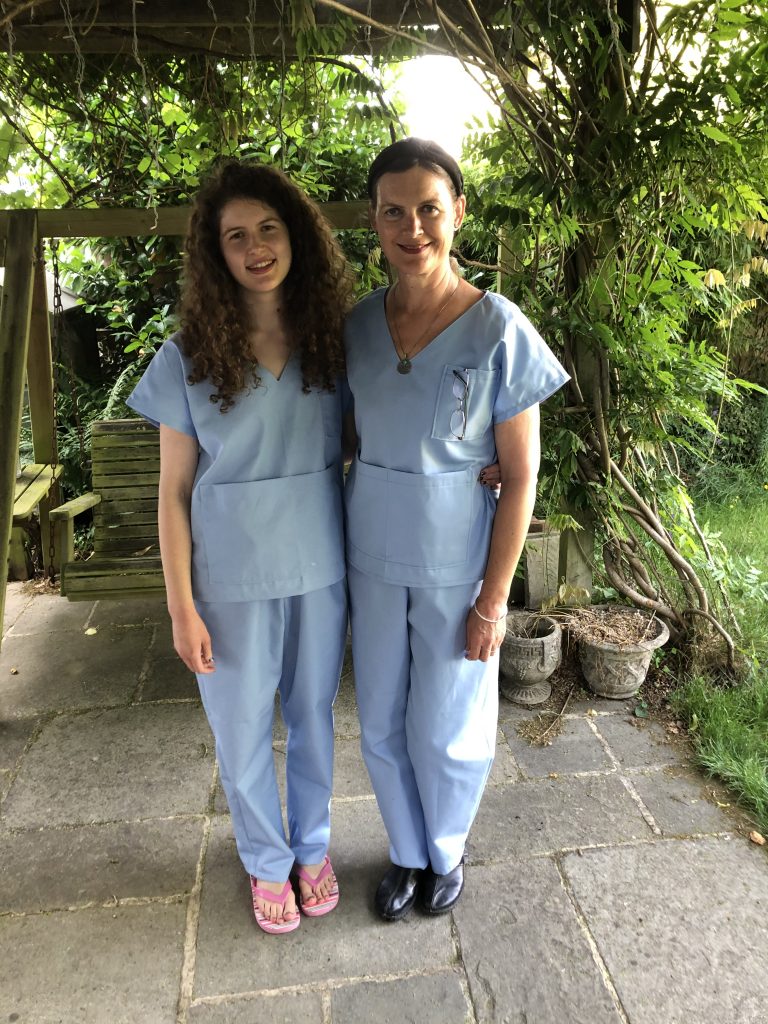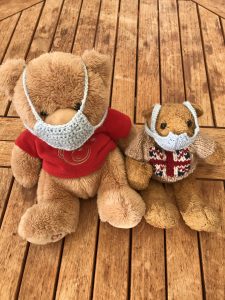 Even some knitted and crochet masks for the teddies to place on chairs to encourage social distancing in care homes!
Community Quilts
Wendy has sewn a few squares that will be included as part of a community quilt that aims to highlight the positives during such difficult times.
The first quilt project called 'Here Comes the Sun' was started by arthur + martha who invited contributions from people across the globe to make squares for a new community quilting project. The squares would then all be stitched together into a quilt which will tour the UK.
The rainbow square was part of 'The Glad Rags Project' that invited people of all ages to contribute a 15cm sqaure representing what makes you feel glad in these difficult times. Squares will be assembled to become a community record of how people overcame the 2020 pandemic to show future generations.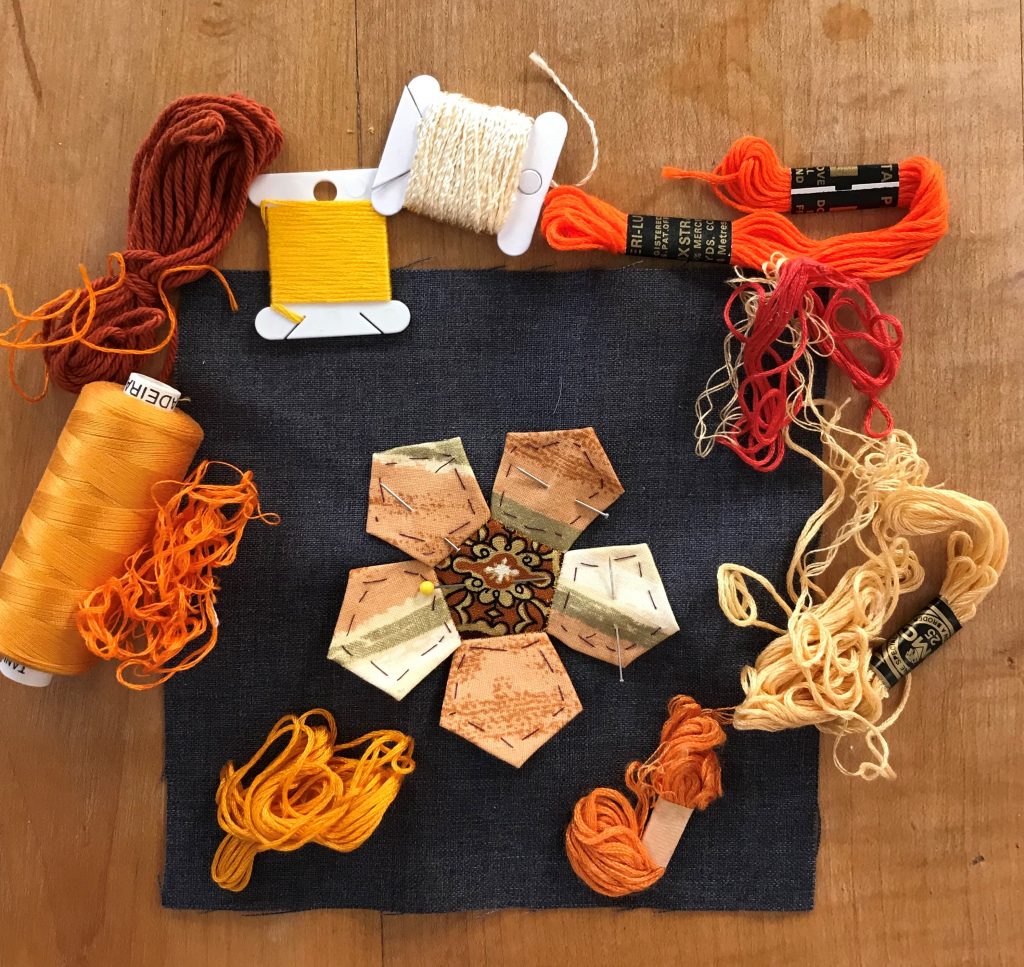 Boomerang Bags and Morsbags
We have also been involved with the Boomerang Bags and Morsbags projects that aim to reuse old, unwanted fabric to make bags to reduce waste.
Wendy has helped community groups making Morsbags and Boomerang Bags which are re-usable, recycled washable fabric bags to be used instead of plastic bags. These fabric bags are given out to customers at various local shops and markets and they are encouraged to bring them back when they return for others to use, hence the name 'Boomerang Bags!' This is a great way to make use of old fabrics that would otherwise go into landfill and look after the environment in a small but effective way.
Days for Girls
For the last two years Amy has been a part of a Days for Girls charity event with the costume course at the Arts University Bournemouth, creating sanitary kits for girls in The Gambia.
Twiddlemuffs for dementia patients
Another project that Wendy has been involved with was knitting Twiddlemuffs for hospitals and care homes. These are double thickness hand muffs with various bits and bobs inside and out, designed to provide stimulation activity for restless hands of dementia patients.